This Blog was written by Kara Henderlight an Intern who has joined us from Wisconsin, USA
The first time I ever saw A46 in the waters of the Great Bear Sea, apart from wiping the tears from my cheeks, I expected to see several other stealth like black dorsals cutting thru the water in unison with his. I waited for numerous, powerful blows of the world's most notable marine mammals. As I listened to A46 call on the hydrophone, I waited and waited for a response from a fellow A Clan member, but nothing resonated back. I whole-heartedly forgot that he was indeed, alone. I felt a momentary lapse of sadness, but then a sense of hope came over me. These feelings of optimism stemmed from the prospect and notion that he has been spotted with other orca from a different matriline on various occasions throughout his life. Maybe in fact he is not alone, but rather living his life as an individualistic orca.
Northern and Southern Resident Orcas are known to spend their lives in complex, social, matrilineal family groups. Male orcas actually live with their mothers, the entirety of their lives. That is why the plight of A46 is quite unique.
Sophia, or A36, had three sons A46, A37, A32 and a daughter A44 who passed away at the tender age of two. A fellow A1 Pod, A Clan mother, A12, had two sons (A31 & A33) and a daughter (A34) of her own. These two matrilines spent time foraging and travelling together, their young interacting and acquainting themselves with one another. This is common in the world of the orca. As life went on, Sophia passed away leaving the boys orphaned. A12's sons passed away over time, and her daughter was frequently leaving to create and raise a family of her own, which resulted in A12 being alone occasionally. Ultimately, A12 took in Sophia's orphaned offspring, which is not unheard of.
Over the years, the family dwindled as A32 passed away as well as A12. By 2013, A37 and A46 were again, on their own. The last time A37 and A46 were seen together was in the fall of 2014, ergo leaving A46 without a complex and social family bond, or so we thought. At the close of the 2014 season, A46 was last seen travelling with A12's daughter, A34. The relationship and bond that had been nurtured over the years amongst the A12 and A36 matriline was still in tact. This reunion gives the luminescence behind that little spark of hope a whole new brightness. Although A46 isn't living his life along side his maternal mother, Sophia, as his unique family history depicts, he does have a matrilineal pod he can occasionally connect with that brings familiarity and companionship to him.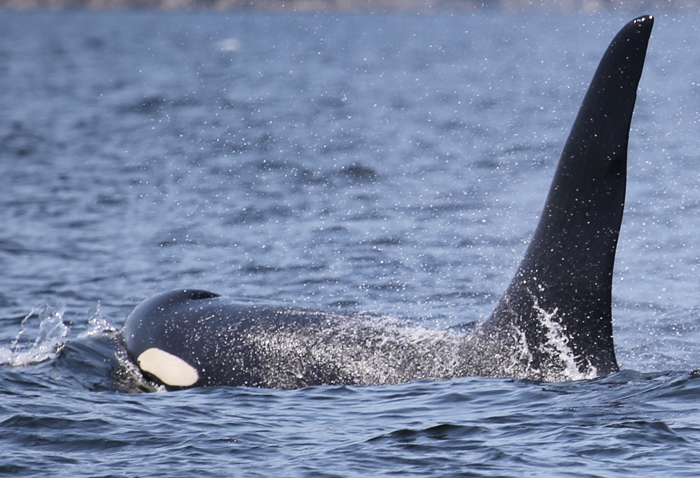 The day I saw this incredible being, travelling by himself, he looked strong and healthy. His grandeur dorsal fin, with the slight wave and small knick on top, seemed to never fully submerge due to its prominence in the water. He appeared content, not lost or aimlessly searching, but rather as if he was on a mission or an adventure on a steady path to somewhere or someone. He is no longer an atypical whale, representing a specific type, group, or class, but rather an individualistic orca, representing himself.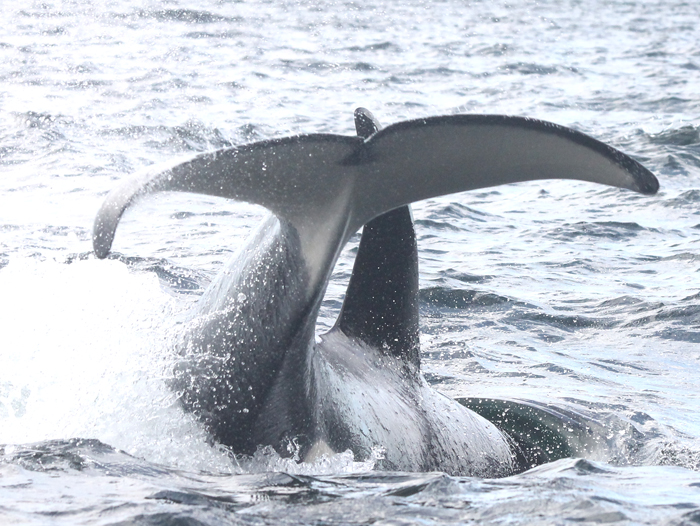 A few days after Kara wrote this blog we had a report of over 20 orca traveling close to Harltey Bay. The following pictures were taken by Nicole Robinson of A46 who had joined these other families. He was obviously quite delighted to share the waters that surround the Great Bear Rainforest with so many of his compansions of the sea!!